Unknown error creating or editing a campaign
To create a campaign or edit an exiting one, the file that needs to be uploaded has to contain data.

In case of an empty file or a file that contains only headers, an error will occur when moving to "Define Field Mappings.
Since our system is not able to preview the data because the file did not contained any data other than the headers, the user cannot go forward with the campaign setup.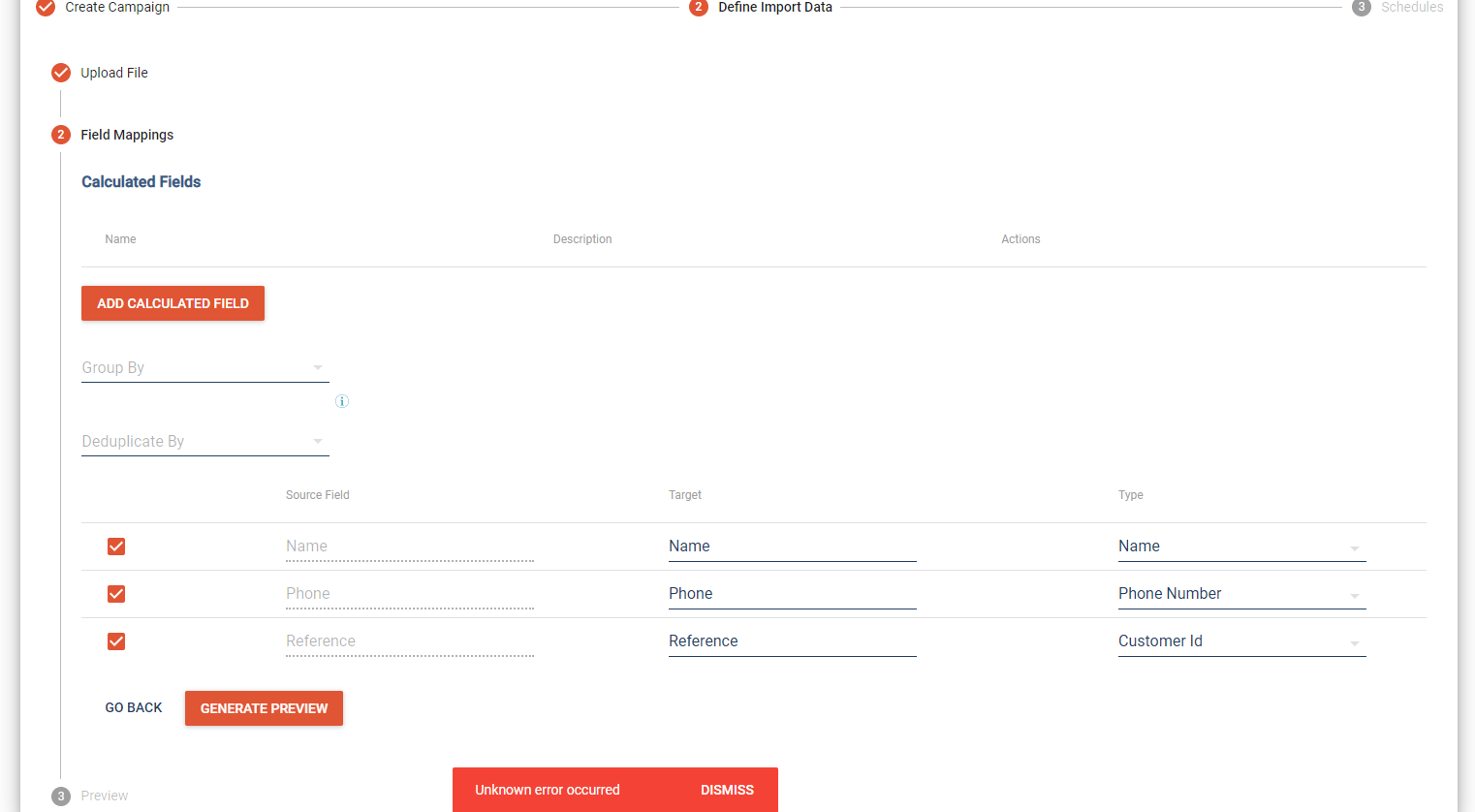 This happens to prevent the user from uploading the wrong file, this error is generated and the user cannot go forward with the campaign setup.
This can also happen if the file is corrupted.
Related Articles

Controlling campaigns

Quick Trick: Click into a live campaign, slide the rate bar to alter the speed, edit the end time or pause/resume the campaign. Step 1 To alter a live campaign click into Campaigns on the left hand pane. If you don't have campaigns speak to your ...

Creating a campaign

Before you start Once you have logged into your account, you will land on the Campaign view, if not click into Campaigns. You'll see any campaigns that are running or waiting to run for the current day. You can set up either inbound or outbound ...

Campaign not running

If you have uploaded a file but your campaign isn't running i.e. the campaign bar isn't turning green then here are a few pointers for you to check. Check that your file is named correctly. This needs to be identical to the name that was used on the ...

Automatic Rate Per Minute (RPM)

Quick Trick: Switch on Auto RPM for your campaign. Your campaign rate will then be set automatically at a rate that will spread your send across the available time window. You can now use our Automatic Rate Per Minute to calculate the rate your ...

Campaign Validity

Each conversation has a validity period set by the campaign it is part of. This enables you to determine when to continue a conversation and when to start a new one. By default this is set to 24 hours but you can change this in your campaigns. ...